Menambah koleksi dengan si beautiful, slider phone
SL91 Onyx Black
(New).
Special thanks to Ms. Serap Avunc, Wina – Austria.
Paket tidak dilengkapi dengan original box, terdiri dari :
- Handset SL91 (1 unit)
- Charger 100-240VAC, 600mA (1 pce)
- Original Stereo Headset (1pce)
- Li-Ion battery 3.7V/950mAh –
made in Indonesia
(2 pcs)
- Original nano lumberg data cable DCA-140 (1 pce)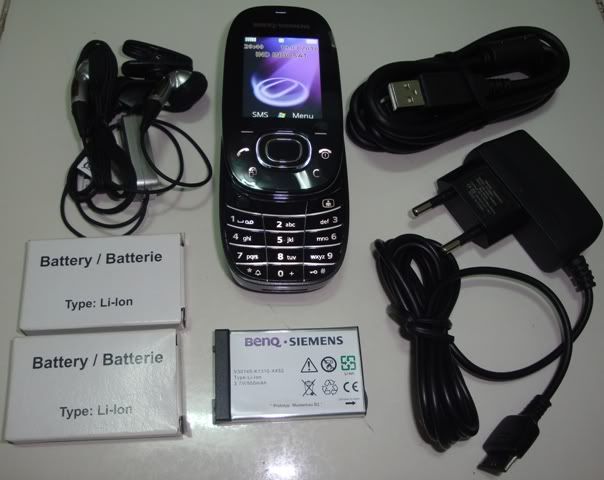 Tergolong handset prototype dengan FK imei number : 004401410217xyz.
FK = fieldtest key (prototype)
PK = product key (masspro)
Termasuk salah sebuah handset langka, karena hanya di produksi terbatas.
Tapi jika dilihat dari software yang sudah versi 23 (
SL91_de-BRDHandle-std_23_0037_002
),
sebetulnya handset ini siap diproduksi secara masal jika Benq-Siemens tidak keburu bangkrut.
Menu icon berstrukstur 3 kolom x 4 baris, lebih kurang sama dengan handset Benq-Siemens kebanyakan.
Sedikit berbeda jika dibanding dengan pendahulunya Siemens SXG75 dan Benq-Siemens E81
(handset berplatform BREW Siemens), menu icon Sl91 adalah : Contacts, Call Register, Internet, Camera, Messages,
Organiser, Google, Media player, Video Telephony, Applications, Multimedia dan Settings.
Camera sudah beresolusi 3.2 Megapixel. Untuk connectivity dapat dilakukan melalui Bluetooth dan nano lumber port.
Fasilitas entertaintment disediakan FM radio dan MP3 player. Selain itu SL91 adalah 3G phone,
yang dilengkapi dengan video call (maaf belum sempat kasih comment karena belum dicoba).
Dilihat dari desainnya yang mungil dan sliding, handset ini lebih cocok buat wanita.
Berikut comment dari seller :
Enjoy your new phone model Benq-Siemens SL91.
The mobile phone is open to all networks and has the protective screen on the display on it
and the highest Firmware (Version 23) installed.
The SL91 is still one of the smartest phones at all.
Mobile is included original battery, charger and data cable and original headset and battery cover.
The battery cover is new but has minor signs of wear, from the storage box
All are well known, SL91 prototype so there is no official released by Benq.
This unit here with the 23er Firmware would have gone into mass production if BQS not previously would have gone broke.
The device is very rare, a sought-model and not everyone has one - but that should you are interested in SL91 already be known.
Please note also that this device is a prototype, which was not produced in batches,
so I can not receive claim declare for all functions of the phone.